In recent months, I have been working intensively with approaches of positive psychology. In the process, I have come to realise, why the Team Canvas is an ingenious tool for team development! On the one hand, it is its simplicity in terms of visualisation and implementation, which nevertheless takes into account all the elementary building blocks for a functioning high-performance team. On the other hand, the Canvas follows the fundamentals of positive psychology according to Martin Seligman – which I discuss in Part 2 of this article. Below I share an overview, experiences and some tips and tricks about this popular New Work tool, which also functions virtual in a Remote Work Team Canvas workshop!
In my various roles as a leader, people developer, coach and strategic consultant, I have observed time and again just how much people in organisations long for orientation and a common direction. This is of course understandable when we consider the increasing complexity and speed of change in companies today.
Orientation and alignment can be achieved through a common purpose and goals. Here, individual and collective goals are those that are concretely measurable and encourage individuals to go beyond themselves, while simultaneously moving a group in a common direction with passion and joy. In this way, the team becomes energised and motivated, which has a positive effect on the company's strategic objective and overall vision.
Team Canvas – a powerful and positive tool for team development
When helping teams to develop a common purpose and when you aim to initiate a positive and sustainable team development process, I recommend conducting a Team Canvas workshop. Ideally, the team's purpose is derived from the overall vision of the organisation.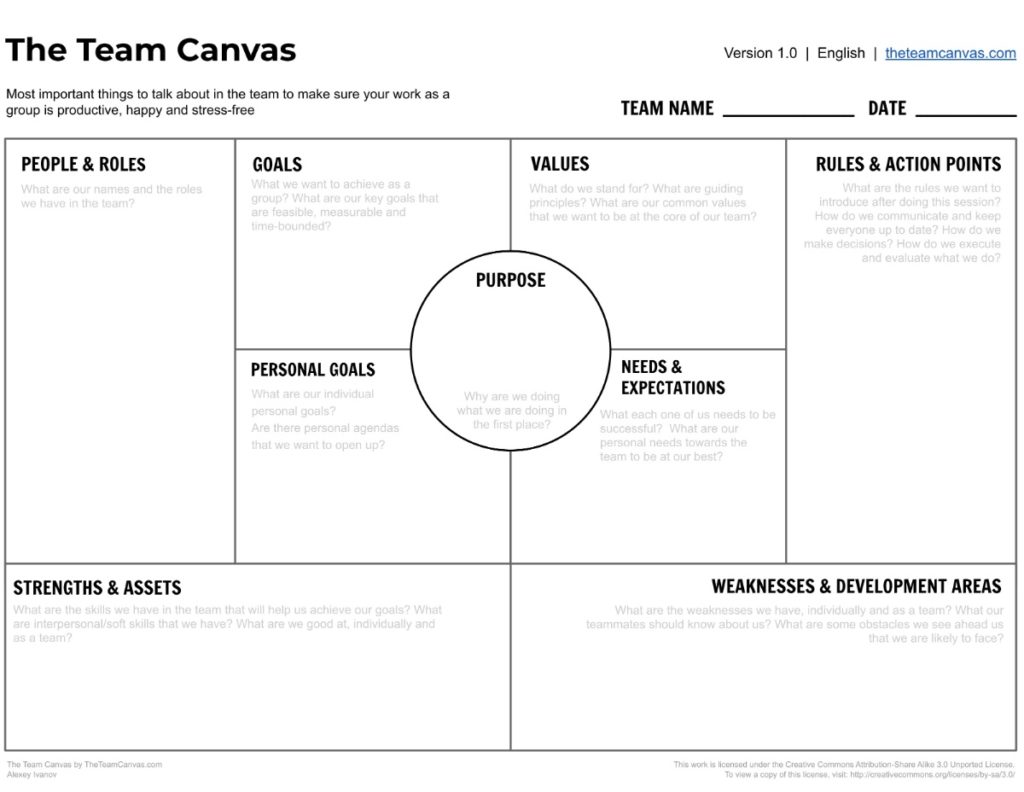 The tool creates orientation, ensures a common focus and supports the establishment of a value-oriented team culture in which motivating goals play a key role. In an entertaining, interactive workshop format (online or offline) the Canvas' fields are filled step-by-step – content is collected on post-its, before being reflected upon and discussed. The team discovers collective and individual strengths and weaknesses, and defines clear roles as well as the "HOW" of cooperation (canvas fields: rules & activities). At the same time, expectations are clarified and the resources required to achieve the goals are determined.
The Team Canvas thus becomes a "navigation system" – it makes the most important elements of a desirable cooperation visible. The team can align itself with these time and time again.
How does a Team Canvas workshop work (online or offline)?
The official recommendation is to plan at least 120 minutes for an initial session with a maximum of 8 participants. However, I have had other experiences in the actual "DOING" and teams should invest more time – I describe this in more detail under "Tips, Tricks & Learnings…".
The Canvas is available as a download in German or in  in English (= original) for a face-to-face workshop. In virtual workshops, I use MURAL as a collaboration tool to conduct a Team Canvas workshop online. This set-up also works very well for remote teams that collaborate internationally; for such teams, I have adapted Team Canvas specifically for remote collaboration in 2020.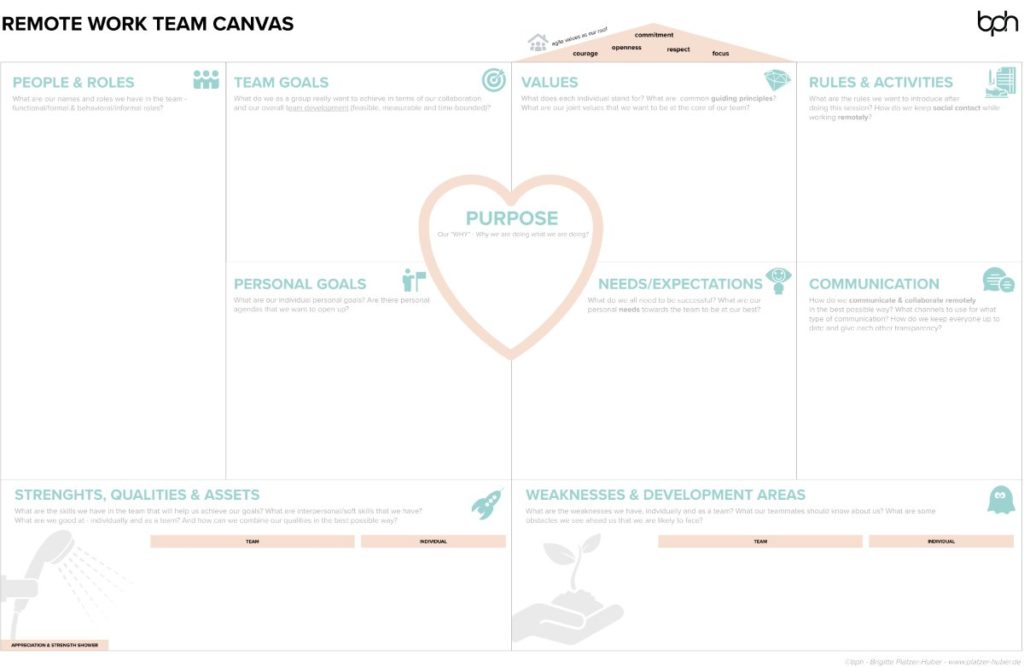 For which type of team is the Team Canvas useful?
The tool can be used in existing teams as well as in completely new teams – in agile teams or remote teams or  as part of the onboarding process for new leaders.
Furthermore, the Team Canvas offers enormous added value as a kick-off tool for a cross-functional project or Scrum Team; it helps to ensure that all participants and stakeholders are on the same page right from the start, thereby creating a valuable basis for further cooperation.
What are the advantages of the Team Canvas tool?
Promotes togetherness and develops human relationships within the team, i.e. openness, trust and positive encounters, among other things
Provides orientation, focus and clarity
Helps the team to develop a common language
Brings new impetus, drive and dynamism via self-determined agreement on goals
Stimulates collective creativity and generates a sense of joint creation
Enables the team to develop its own value contribution to the "big picture", while simultaneously dealing with higher-level corporate goals/strategy/vision.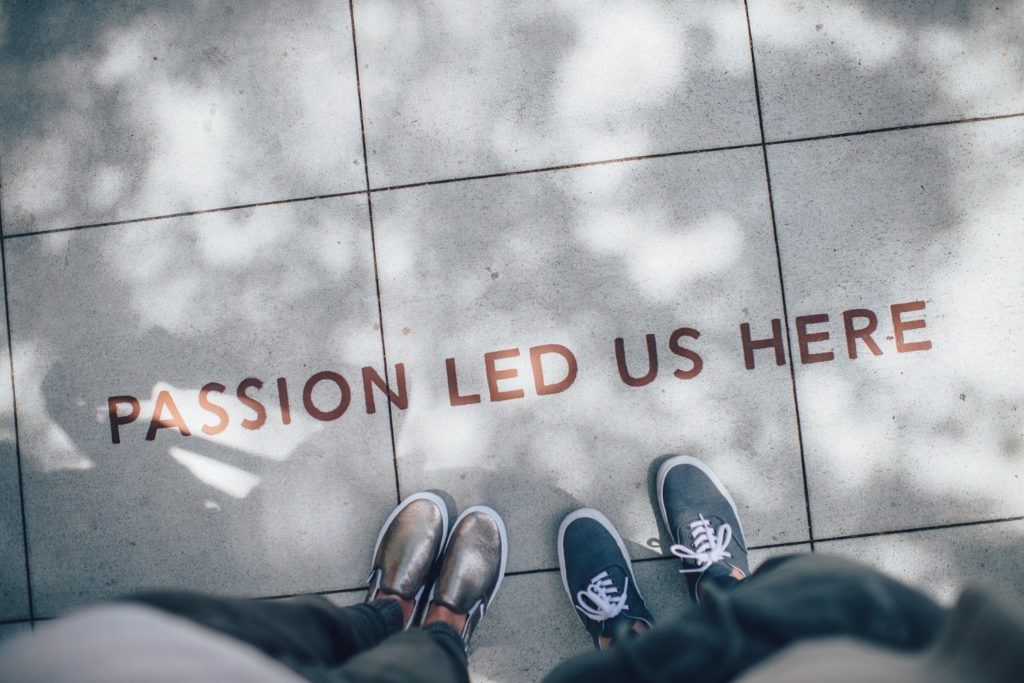 The final reason why I am a big fan of the tool is because it enables strengths & qualities as well as weaknesses & opportunities for improvement to be shared and made transparent. If the team is open to this, mentoring or learning partnerships can be formed and tasks can be distributed based on individual strengths.
My tips, tricks & learnings for a Team Canvas workshop
Have a neutral facilitator conduct the workshop, to ensure that everyone can work on the content in a concentrated manner and at eye level.
Depth beats timeboxing! I recommend 4-5 hours for the workshop. It takes time to explain the method, objectives and to have valuable discussions. Especially virtually, I use asynchronous workshop formats with preparation and follow-up work.
Create a basis of trust at the outset, so that depth is possible, especially with newly formed teams where team-building is the main focus.
Depending on the team and its level of maturity, plan a loosening-up warm-up game and additional theory input to give some more context about the phases of team development.
Either during the workshop or beforehand, communicate or raise awareness of the overall corporate goals, strategy and vision.
Treat the "purpose" as the centrepiece and schedule time to do so. The purpose's wording should set the team on fire emotionally and get to the heart of why it is worth coming back to the office day after day!
If OKRs (Objectives & Key Results) already exist, no new goals should be developed – this could potentially irritate and place excessive demands. Instead, use goal fields in the Canvas for personal and team OKRs.
Incorporate a feedback exercise for mature teams. The Strengths & Weaknesses fields are ideal for supplementing both, self and external perception.
The team will focus on itself in the workshop, which is okay. Nevertheless, the focus on customers and value creation should not be forgotten.
Be sure to develop the content every 2­-3 months and adapt it to new conditions: the Team Canvas is a living document. Consistency and sustainability are the be-all and end-all!
Provided that the Team Canvas is accompanied by a wholehearted and sustainable process, I find such workshops invaluable for team building and team development. Equally, the tool can also offer real added value to corporate development in start-ups and small and medium-sized companies!
In Part 2 of this article, I explain how the Team Canvas fits perfectly with positive psychology.
I look forward to your comments, feedback, questions or suggestions! If you are interested in a classic or virtual Team Canvas workshop, please contact me directly.